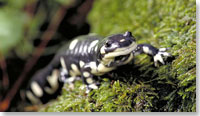 California tiger salamander
Ambystoma californiense
(photo by Gerald Corsi)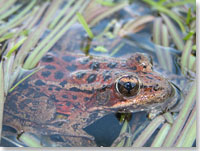 California Red-Legged Frog
Rana draytonii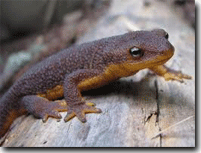 Rough-Skinned Newt
Taricha granulosa

Amphibians of the San Francisco Bay Area Workshop
Laguna Environmental Center, Santa Rosa, CA
This workshop is designed to provide an overview of the life history, ecology and conservation of frogs, toads, and salamanders that occur in the S.F. Bay Area.
This workshop will be held again in 2017.

Would you like to recieve more information on our new workshop as it becomes available?
Send us an email at info@lagunafoundation.org
About the Instructors
Dave Cook and Jeff Alvarez are experts on amphibian and reptile ecology and conservation, conduct herpetological research, and hold state and federal permits for three pond species.
Co-Sponsors
The Wildlife Project specializes in environmental compliance and technical field surveys. Specifically, assisting clients with mitigation development and monitoring, special-status species surveys and habitat evaluations, biological assesments, survey and monitoring technique development, and biological consultation.
The Laguna de Santa Rosa Foundation's mission is to restore and conserve the Laguna de Santa Rosa and to inspire public appreciation for this Wetland of International Importance (Ramsar 2011.)