Many thanks to
Sonoma Mountain Village
for their business sponsorship of our Public Education Programs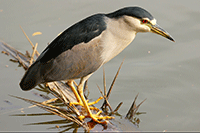 Laguna Foundation Public Education Events
Winter-Spring 2014 Schedule
Laguna Environmental Center Open Houses
Second Saturday of the Month, 10:00am-3:00pm
March 8, April 12, May 10 and so on . . .
Location: 900 Sanford Road, Santa Rosa, CA 95401
Free (donations appreciated)
Learn about the natural and cultural history of the Laguna de Santa Rosa and historic Stone Farm by taking a guide-led tour or exploring a variety of hands-on activities. Birdwatch from the observation deck. Stop by for a visit and take in the beautiful views. Bring a picnic! Enjoy our gift shop in Great Blue Heron Hall and a new art exhibit "Once Upon a Wetland" (on display through March 24) of soil and pastel paintings by Ane Carla Rovetta. This is a working farm, so please leave your pets at home. The site is wheelchair accessible. No RSVP necessary. Come join us!

_____________________________________________________________________________________
Mysterious Lives of Owls
Presentation by The Hungry Owl Project
Saturday, March 8, 3:00-4:30pm (in conjunction with our monthly Open House)
Location: Heron Hall, Laguna Environmental Center, 900 Sanford Road, Santa Rosa, CA 95401
$10 at the door. No RSVP necessary. Suitable for 10 years old and up.
Learn about friendly predators who keep rodents and harmful insects in balance. Become informed about how important owls are to our environment, and understand the dangers that threaten them. Participants will learn about six types of owls that frequent the North Bay. Participate by trying to identify them by their vocalizations! A video called Backyard Barn Owls, popular with all ages, will be shown. The highlight of the presentation will be a visit by an Ambassador Owl, an experience that will inspire participants to protect these amazing and majestic raptors.
Join us for this fabulous and engaging presentation, and come early to enjoy a special display (starting at 2:00pm) by the Hungry Owl Project during our regular Second Saturday of the Month Open House (see details above).
_____________________________________________________________________________________


The Complex Social Life of Cliff Swallows: Insights from a 30-year Study
Presentation by Dr. Charles Brown
Thursday, March 20, 7:00-8:30pm
Location: Heron Hall, Laguna Environmental Center, 900 Sanford Road, Santa Rosa, CA 95401
Free, open to the public, donations appreciated
With an unparalleled depth of knowledge about this amazing avian species, Dr. Brown will present an overview and research highlights of a long-term study of social behavior in Cliff Swallows in western Nebraska, focusing on why these animals live in groups. Brown will discuss how the birds are affected by bedbug-like parasites, how they avoid predators by living in colonies, how colony members use each other to find food, how they lay eggs in each other's' nests, and how colony size affects their survival. Recent findings on natural selection on the birds' ability to avoid being hit by vehicles on roads will also be presented.

Dr. Brown is a Professor of Biological Sciences at the University of Tulsa. A native of Sherman, Texas, he became interested in birds at age 11 when he began studying Purple Martins in his backyard, and published his first scientific paper at age 15. He received a B.A. in biology from Austin College and a Ph.D. in biology from Princeton University. He was on the faculty at Yale University before joining the University of Tulsa in 1994. Dr. Brown has been doing a long-term study of Cliff Swallow social behavior and ecology in western Nebraska since 1982. He is the recipient of the American Ornithologists' Union's Elliot Coues Award in 2009 and the Animal Behavior Society's Exemplar Award in 2011. While in Sonoma County, Dr. Brown will also visit the Petaluma bridges to view exclusion methods for the upcoming nesting season, subjects of the recently settled litigation against CalTrans.

This event is co-sponsored by the Laguna Foundation, Native Songbird Conservation & Care, and Madrone Audubon Society. Each organization will have informational displays for visitors to peruse both before and after the presentation.
______________________________________________________________________________________
From Earth to Art: Making Art Supplies from Natural Materials
Workshop with Ane Carla Rovetta
Saturday, March 22, 10:00am-4:00pm
Location: Heron Hall, Laguna Environmental Center, 900 Sanford Road, Santa Rosa, CA 95401
$65 ($55 Laguna Foundation members), for adults 18 years and up. Pre-registration required.
***THIS WORKSHOP IS FULL***
If you're interested in being on a wait list, please email anita@lagunafoundation.org
Soils, soot, milk and sap—for thousands of years humans made nontoxic art from what was at hand. During this day of grinding, mixing, and experimenting, Ane Carla will share the historic recipes she has been researching and using for the past 18 years. Students will make and try paints, inks, chalks and charcoal, and take some home.
Join us for this intimate, fun, and memorable hands-on workshop in light-filled, comfortable Heron Hall. You'll be surrounded by Ane Carla Rovetta's art exhibit "Once Upon a Wetland" (on display in Heron Hall January 7-March 24, 2014), as well as gorgeous views of nature and the Laguna de Santa Rosa. Hot drinks and snacks provided.
Ane Carla Rovetta is a local science illustrator, field biologist, storyteller, and teacher of cultural uses of plants and nature crafts. Trained as a zoologist, Ane Carla combines science and art in her paintings, handmade art materials, and public performances. An illustrator since 1978, Ane Carla's artwork can be seen in five books, as well as many scientific and educational periodicals.
***THIS WORKSHOP IS FULL***
If you're interested in being on a wait list, please email anita@lagunafoundation.org

____________________________________________________________________________________
BIRDS OF THE LAGUNA
with Lisa Hug
Friday, March 28 slide-show presentation from 6:30-8:30pm at the Laguna Environmental Center
Saturday, March 29 birding walk, 9:00am-Noon. Laguna site to be determined based on conditions.
Sign-up for either or both! Pre-registration required (see below).

Many people derive great pleasure in looking for, listening to and identifying wild birds. They are beautiful, industrious and intriguing. But did you know that birds also play important roles in the ecosystems that support our own survival? They pollinate flowers & trees, disperse seeds that keep ecosystems strong and re-colonize destructed areas thereby reducing erosion, and they are cost-effective insect and pest controllers. Birds are vital links in many food webs, and often serve as biological indicators of overall ecosystem health. Come catch the "bird-bug" and get to know some of your avian neighbors by attending this evening bird presentation and, if you choose, by joining the Saturday morning Laguna walk to develop your sight recognition & field ID technique.

These events are offered in partnership with LandPaths and are sponsored by Sonoma County Agricultural Preservation and Open Space District. Pre-registration is required for both events on the LandPaths website. Details sent upon registration.
_____________________________________________________________________________________
Also on tap . . . Stay tuned for details!
More walks and outings around the Laguna
More art and nature workshops
Mid-Week Movie Nights
And much, much more!!!
For more information, contact Anita Smith, Public Education Coordinator, (707) 527-9277 x110 or anita@lagunafoundation.org